Hello!
It's my son's birthday this week and he will be 9 years old! I designed and made these Minecraft Creeper party bags for him and his friends and thought I'd share with you all the printable I made- for free!
Click this link to download your PDF copy of the Free Printable Minecraft Party Bag kit
Plus I will share with you how I made the bags so you can do this easy project too!
If you are planning a Minecraft Themed party why not head on over to my Etsy shop and get the Minecraft birthday party kit I designed to go with your Free Party bags download?!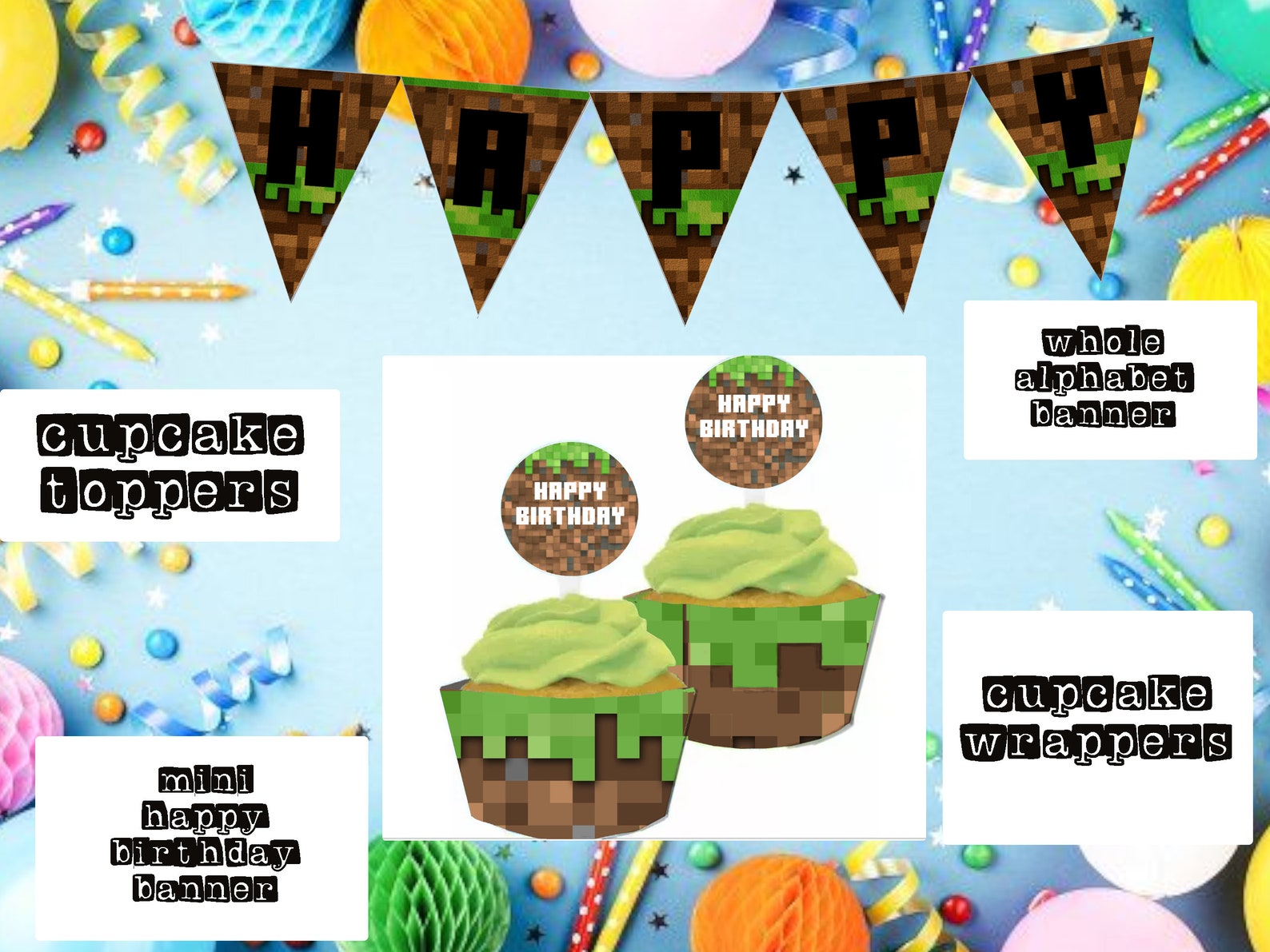 This Minecraft birthday kit is designed to be easy to print at home! It includes 5 PDF files- a mini "happy birthday" banner, Large alphabet banner so you can customise to your own child's name or occasion, cupcake toppers and cupcake wrappers all with a mine craft style design.
Combined with the Free Printable Mine craft Party bag kit you will have all your party essentials in a quick, easy and re-usable printable format!
Here's how I made my Mine craft Party Bags!
First of all you will need:
Green and white paper or card
Paper bags (such as these)
Glue stick
hole punch
scissors and or a paper guillotine
Green Ribbon
Step One: Print off the Minecraft Creeper Face onto a piece of A4 Green Card- you will need one for each party bag.
Step Two: Cut off the excess green card from the top and bottom of your Creeper faces if needed depending on the size of your paper bag using a guillotine or scissors.
Step Three: Glue the creeper faces to your paper bags- I weighted mine under a heavy book after glueing just to make sure the glue stuck.
Step Four: On White card or paper print off the Minecraft gift tags and cut them out- I edited mine on the computer to add the names of the guests, you could write the names on in pen, or print off names and glue them on the front if you wish, or you could leave blank and write on the back of the labels.
Step Five: Punch a hole at the top of each tag.
Step Six: attach with ribbon- I used florist ribbon and curled the excess, but you can use whatever ribbon or string you have to hand, or you could staple the labels on if you wish.
Step Seven: fill your bags with treats!
I hope you find my Free Printable Minecraft party bag kit useful for your own party! And remember, you can always combine it with my Minecraft-themed birthday printable kit from my Etsy Shop Mushroom Moon Designs for a Mine Craft Themed party to remember!